For the record, compiling and narrowing my selections for this list was impossible. It's forever incomplete. I started and stopped for the sake of the showcase, and with consideration of the test of time (thus no really new albums). I left off The Beatles because, well, isn't that where we all start? For me they were certainly the jump off, but the following albums provide the definitive soundtrack to my life as I remember it best. Here we go, in chronological order pertaining to the life and times of yours truly.

janet., janet. - 1993
I'm a child of the 90's and, like most pre-teen girls I knew, I wanted to be a fly girl when I grew up (or at least have the option). This album was released around the same time I was learning the butterfly dance and going to pivotal sixth grade co-recs. Fast, sexy, dance tracks like "If" were perfect for all those group dance/trying to flirt situations. I really don't think anyone can deny how hot this album was and still is.
Weezer, (Blue Album) - 1994
With the exception of "Buddy Holly," I still appreciate this album IN FULL today as much as on the day I bought it. To me, "In the Garage" is one of the most uplifting, geek-pride songs of all time. Maybe it just reminds me of simple times, like when we'd go to the 24-hr diner in high school and play "The Sweater Song" on the individual, table-top jukebox. Having said that, can you really blame me?

Beck, Odelay - 1996

I saw Beck tour for this album at Roseland Arena in NYC with my Dad. It was the night after he'd performed on SNL with Kevin Spacey, who was there along with other cast members for the show. It was the first album I ever introduced to my father that he appreciated as much as I did. That felt kind of awkward at the time, but is really special in retrospect.Plus, it's one of the best albums EVER. I'm pretty sure I throw at least one song from this album on just about every iTunes playlist I make.

Beastie Boys, Paul's Boutique - 1989
I became a pretty die-hard Beastie Boys fan in high school. I was introduced to their albums out of order starting with License to Ill and Ill Communications, so when I heard this album for the first time, it completely blew my mind. For real, "B-Boy Bouillabaise" is still one of the most awe-inspiring medleys of all time. Who else could pull it off? Seriously.

Liz Phair, Exile in Guyville - 1993
By now I've really said it all. Liz Phair is/was a bad ass. It's really too bad she sold out, but it doesn't matter, I was hooked-in after my late discovery of Exile. "Strange Loop" is the story of my life. It's every girls life. It's the epitome of a good ol' "fuck you" to that guy who totally screwed you over, only the album sticks with you.

A Tribe Called Quest, Beats Rhymes & Life -1996
During summers in high school I worked part-time at TCBY and every week after I picked up my check I would go directly to Rhino Records to peruse their used CDs and adopt a few for my collection. I popped it into my rigged-up disc-man, turned up the bass, and hit the streets. Sun shining, windows down. To this day, this album always brings connotations of that initial taste and all those carefree high school summers.
Le Tigre, Le Tigre - 1999

I went to Brooklyn for Le Tigre's first show ever with my friend Evan. I think it was a school night and I was totally excited that my parent's trusted me and let me go. They played at a venue that felt more like a houseparty. I was shy and wide-eyed in awe of the whole scene. As everyone filtered out after the show, Evan was like, "Let's go meet Kathleen Hanna." I couldn't believe how simple it was to run an intro with someone I idolized. She is so super tiny and amazing. Riot Grrl 4 life! (Even though I'm kind of jealous she's married to Adam Horowitz.)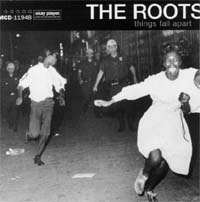 The Roots, Things Fall Apart - 1999
I'm pretty sure this was the soundtrack to the spring semester of my senior year of high school. I think no matter who's car I jumped into during that time, this album was playing. As graduation neared our blurry, late night hang outs often turned into sing-alongs of, "You Got Me" in anticipation of college and that whole end of an era feeling. Word up, Questlove.

Belle & Sebastian, The Boy With the Arab Strap - 1998
I am no longer friends with the girl who introduced me to this album, but if I had to appreciate her for something, it would be this. (Thanks, bitch.) With the introduction through "Ease Your Feet into the Sea" (which is perfect for when you don't want to get up in the morning, but totally have to, so you turn on that song),
Belle & Sebastian
quickly became one of my favorite bands to cherish forever and ever. It was hard to choose an album for this list, but the title track to this album ALWAYS cheers me up, without fail. "
We all know you're soft 'cause we've all seen you dancing. We all know you're hard 'cause we've all seen you drinking from noon until noon again."
Fucking perfect!
Bob Dylan, Nashville Skyline - 1969

Two years ago I went home for Christmas without my iPod adapter and grabbed this album for tooling around in my parent's car. I have a fairly extensive collection of Bobby D. on my computer, and because of that I hadn't ever formed a relationship with ONE album of his in particular. It was my first Christmas pilgrimage home since relocating to Austin and "Girl from the North Country," had me all sorts of reflective. The whole album is so perfect I listened to it for a week straight and still love it. Always and forever.
Camera Obscura, Let's Get Out of This Country - 2006
So sweet. So smooth. So melodic. I listened to this continuously during my initial move south, so it was only natural. The title track felt like a narrative of my life at that exact moment. I got to Austin and was doing some day drinking, looking for a job, and spending a lot of time pool side contemplating. This album is just really nice and sort of retro, like your favorite episode of
The Wonder Years
. It feels good.
Bruce Springsteen, The Wild, The Innocent & The E Street Shuffle - 1973
A lot of people find Bruce pretty cheesy and that's cool because he
does
play that game. More importantly, he WINS that game, and he's got other tricks. Bruce is an epic lyricist with loads of passion and he always delivers. "Incident on 57th Street" is a freaking novelette. Listen to it. He's a beautiful man with beautiful stories. Do yourself a favor and watch
Hammersmith Odeon London 1975
. Out of control.
Two Gallants, Two Gallants - 2007
Last winter I drove from Texas to Connecticut and back with my best friend. The trip was one of those epic adventures full of delirium and topped with an assortment of ridiculous nights of fun and mayhem. With lengthy days of endless driving, this album became our go-to as we belted along off-key over and over to their well-depicted, bitter tales of discontent and wandering, feeling at times as if their stories were our own. It's heavy stuff and makes for a really comforting road companion, for sure.


Click for list official participants & info on joining in!